The sho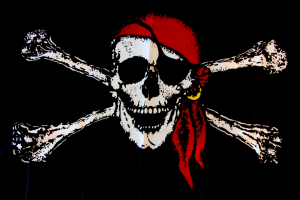 rt answer is "No", however, it also depends on your definition of "dangerous".
Lucid dreaming is merely the realization that one is dreaming.  That alone is not dangerous.  People sometimes confuse lucid dreaming for other sleep activity such as astral projection or out of body experiences (OBE's).  Venturing beyond lucid dreaming may be considered as having more of a risk, but that is for another post.  For this post, let us focus on lucid dreaming.
I have read of a behavior that can occur after one becomes better at lucid dreaming which might be considered dangerous.  People, apparently, have been know to get a little obsessed or rather addicted to lucid dreaming.  As a result, those people are noted to spend an unhealthy amount of time sleeping in order to dream lucidly.  Being a lucid dreamer myself, I have a hard time judging people who sleep too much in order to have more lucid dreams because this type of dreaming is truly amazing.  The power that the dreamer can have and the beauty found in the dream state is profound.  However, too much of anything is not usually a good thing.
In case it isn't obvious, sleeping too much means that you are missing real life.  This is, of course, relative to each person's life.  In general, a person should live their life to the fullest.  On a physical note, it is possible to cause real physical harm by sleeping too much.  Less time moving around means muscle mass is reduced making for a weaker body.  Your body also builds up toxins the longer you sleep.  So, the moral here is, make the most out of the sleep that you have to have each night.  Get better at lucid dreaming and enjoy your nightly slumber.  There is nothing wrong with getting a full night's rest, just don't waste the time you could be living in the real world to do more of what you have to do every night anyway…. sleep.
There is no real way to guarantee to anyone that lucid dreaming won't lead you to other things such as astral projection, but I will say that it is extremely unlikely that you will randomly have an out of body experience unless you had some desire to do so.  It is difficult enough to experience such things out of purpose let alone by accident.  Most of the things that can be done while sleeping appear to be largely based on the sleeper's intention and desire.  Simply put, if you only intend to dream lucidly, chances are very high that lucid dreaming is all you will do.
The only other thing that might make lucid dreaming seem dangerous is the excitement level that the dreamer may experience from time to time.  A person who has heart trouble or some sort of a health condition that is affected by excitement or the adrenaline created in the body when excited may be at some level of risk.  Just realizing you are dreaming can be an exhilarating experience.  So, anyone concerned about this type of condition should be cautious and possibly consult a physician.  The counter to this though is that, really any dream could cause this level of excitement… so, in my opinion, a lucid dream poses no more risk of excitement than a regular dream.
In 20 years of lucid dreaming, I have never had a problem nor experienced anything resulting from a lucid dream that I would come close to considering to be dangerous.  I have only had benefits from lucid dreaming and at the very least, I have had pleasant nightmare-free dreams.
I hope you give it a try and discover the wonderful world that exists in your head.  You can read more about lucid dreaming dangers by navigating from the main page.
Is Lucid Dreaming Dangerous?
Incoming search terms:
is lucid dreaming dangerous
lucid dreaming dangerous
dangers of lucid dreaming
lucid dreaming risks
lucid dreaming dangers
Risks of lucid dreaming
is lucid dreaming dangerous?
are lucid dreams dangerous
lucid dreaming is dangerous
risk of lucid dreaming