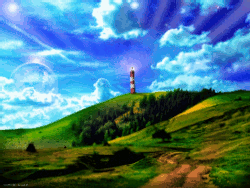 Since 2008, there has been a growing buzz about lucid dreaming (according to Google's trend reports).  Lucid dreaming is nothing new, but up until recent years, it was largely misunderstood and only a handful of people who walk in the circles of science have put much work into exploring the effects, benefits, and dangers of lucid dreaming.  Still today, there are only a small few authorities on the subject.
Now that metaphysics has leaked into the mainstream and people are not so afraid to explore and share information about lucid dreaming and other unusual experiences, more and more people are opening up to finding out more about it.
Learning about lucid dreaming is often motivated by one's desire to control their dreams.   When I first started experimenting with controlling my dreams, I had no idea it was known as lucid dreaming.  It wasn't until I had already had some successful controlled dreams that I discovered what they were called.  I started trying to control my dreams when I was in my mid-teens (over 20 years ago… ugh!).  In order to control your dreams, you must first realize that you are dreaming.  So I don't believe I am telling a lie when I say that in order to get to a point where you can control your dreams, you must first be able to become lucid while dreaming.
About Lucid Dreaming – How I stumbled into lucid dreaming
This is something that took me a significant amount of time to do.  There were no resources about lucid dreaming available to me that I was aware of.  I started practicing completely solo.  Remember, I was only interested in controlling my dreams and was unaware that anyone else had ever tried.  I am, what some call, a thinker.  So when I first got the idea, I pondered often on how I could take control of my dreams.  I eventually came to the conclusion that I would have to somehow trick myself into realizing I was dreaming.
Ironically, I developed a sort of chant or phrase whereby I would tell myself that I intend to control my dream and that I will realize I am now going to sleep and will shortly be dreaming.  I say this is ironic because this is one of the most common method used by lucid dreamers today.  I don't think I am any kind of pioneer, I think I just came up with the logical conclusion about how to realize I am dreaming.
About Lucid Dreaming – No more bad dreams
With practice, I had all the tools that I needed in order to dream lucidly.  Because I never had any greater aspirations for my lucid dreams other than to control them, I never really found myself pushing the limits or exploring some of the other benefits of lucid dreaming.  The one clear benefit that I did enjoy and continue to enjoy today is zero nightmares.
Nightmares range in severity from person to person, however; a nightmare is still a nightmare no matter how mild.  Once I had been practicing for a while (about 6 months), I found that I no longer had nightmares.  I no longer had bad dreams.  Once in a blue moon I would have an intense dream, but it would never be bad enough for me to call it bad.  As a matter of fact, I stopped practicing lucid dreaming for over 5 years and still, bad dreams never resurfaced.
About Lucid Dreaming – The door to possibilities
It wasn't until several years ago that I started thinking about pushing the limits on what a person can accomplish with lucid dreams.  I had already learned how to fly in my dreams, drive super fast cars, transform into scary creatures, survive falling out of the sky and getting shot with laser guns… but all that is just the surface.  There are ways to tap into the powers of your mind; to get in touch with the deepest parts of who you are and what you can do.
Imagine being able to communicate with the most guarded parts of your head.  Not only can you improve various aspects of your life, but you can get answers to some of your most sought after questions.  Some believe that it is possible to tap into the knowledge of the cosmos.  That sounds a little bit fantastic, but science is uncovering some amazing things about what we are.  Keep an open mind if you decide to find out more about lucid dreaming.
About Lucid Dreaming – Should you open the door?
In recent times, people are trying to have lucid dreams because they have heard about them from someone else.  There are far more profound reasons for learning how to lucid dream.  Learning about lucid dreaming can lead you to mental development in a number of different forms.  There are a fair number of lucid dreaming benefits, but learning how to lucid dream can lead to other fantastic experiences as well.
I think most people will agree that lucid dreaming and astral projection share many similarities.  Some will even argue that they are one in the same thing.  I don't personally agree that they are the same, however; I do believe that one can easily lead to the other.  It is my personal belief that lucid dreaming can serve as a launch pad for astral projection.  I am no expert on astral projection, however; so I can only speculate at this point.
If you are interested in improving your mind and improving the quality of your life or even if you just want to feel what it's like to fly in your dreams and shape your dreams at will, I definitely suggest that you learn more about lucid dreaming.  I am confident that you will find that a large majority of people who are lucid dreamers are better off from having embraced the experience.  If you are concerned about the dangers, make sure you do some good research and talk to other lucid dreamers about it.  There are plenty of forums on the internet now that talk and share details about lucid dreaming.